• biltong • How to make biltong • South Africa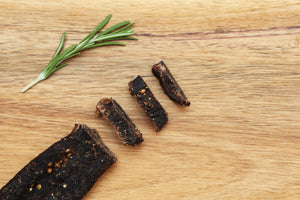 Hoe is biltong ontstaan? Biltong is voornamelijk in Zuid-Afrika een bekend gerecht, en niet zonder reden. Het waren Nederlanders die het gerecht hebben verzonnen, maar wel met een speciale reden. In de tijd dat er Nederlanders in de kaap aankwamen, lang geleden, had men nog geen idee hoe vlees ingevroren kon worden. Laat staan dat zij wisten dat vlees op die manier langer goed bleef. Er werd niet op Afrikaans wild gejaagd, maar men nam veel vlees mee vanuit het land waar zij vandaan kwamen. Er waren in die tijd geen vrieskisten. De oplossing? Het vlees uit laten drogen. Men...
---
• Barbecue • Braai • Rugby • Springboks • Zuid-Afrikaanse
Zuid-Afrikaanse Producten Webshop Ben jij afkomstig uit Zuid-Afrika? Of liggen je roots in dit prachtige land? Dan hebben wij wat moois voor je. Onze webshop is opgericht om producten aan te bieden die te maken hebben met het, volgens ons, mooiste land van het Afrikaanse continent. Het assortiment is erg breed, we willen vooriedere Zuid-Afrikaan of ieder ander die een bepaald gevoel heeft bij het land de juiste producten aanbieden. De Zuid-Afrikaanse producten webshop leent zich voor het vinden van een leuk cadeau voor een ander of om jezelf eens te verwennen. Ook voor mensen die binnenkort van plan zijn om naar Zuid-Afrika af te...
---
• Rugby • South African Rugby • South african springbok • Springbok
Springbok South Africa National AnimalThe Springbok is not only a symbol of it's presence in South Africa, there is more to it. South Africa is a country that suffered greatly in the time when colonies were the most normal thing in the world. Slavery, exploitation and racial inequality were the order of the day and white people ruled. After the abolition of apartheid, the symbol was also abolished. Black and white people were equal again and no longer wanted a symbol that reminded us of that time. The rugby team was allowed to keep the symbol through the efforts of Nelson Mandela. He wanted to...
---
• Braai • Braaibroodjies • South African Food
On a South African braai you bake typical South African recipes in addition to the 
"usual" 
food. One of those recipes is a braaibroodjie, if you translate this into Dutch you get a barbecue bread.  Read more...